5-inch large screen mobile phone market has now become the battleground of many smart phone manufacturers, international mobile phone manufacturers or the domestic mobile phone manufacturers have force on a 5-inch or larger screen products. Chinese smartphone manufacturers THL, recently launched a 5.7-inch giant screen phone THL W7 the ThL W8 and
THL W100
, also listed followed by the footsteps of the latest news reports THL R & D THL T1, we said that it would W8, THL W8 not only provides a very attractive hardware specifications, into the popular young aesthetic elements in the design.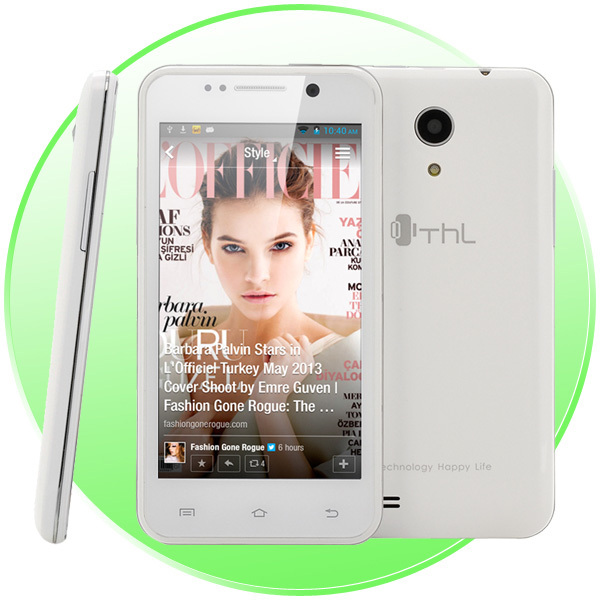 ThL W8
is equipped with a 5-inch multi-touch screen, resolution of 1280 * 720 HD level, the display is very clear. ThL W8 youth version equipped with a Cortex-A7 architecture clocked at 1.2GHz MTK6589 quad-core processor, 1GB memory to run at the same time built into the fuselage and 4GB of storage space, supports up to 32GB Micro-SD memory card expansion. ThL W8 youth version equipped with a 3.2 megapixel front and rear 8-megapixel main camera, supports 720p HD video capture. Network aspects of THL W8 youth support GSM and WCDMA network dual network dual standby. ThL W8 youth version also provides users with a replaceable 2000 mAh lithium battery.
Front fuselage ThL W8 5-inch 1280 * 720 resolution HD screen, crisp and clear display effect is not qHD or WVGA-level resolution screen can be compared with the excellent performance of the quad-core processor, slide on the screen is smooth very. ThL W8 youth version of the top of the screen has a 3.2-megapixel camera has a good performance, not only during the self-timer, front camera for online video chat can also provide a more clear picture output. Young people's version of ThL W8 bottom of the screen with a combination of design of physical buttons and the touch switch, touch the touch keys will light up white backlight.
ThL W8+
of the back of the fuselage with an up to 800-pixel main camera, camera slightly upward projection, and a circle of silver metal ring around the camera. Largest ThL W8 youth can shoot 3264 * 2448 resolution pictures, auto focus, camera very good, THL also Fengyun camera coupled with an LED flash as a supplement, so that users can still take pictures in low light . At the same time this camera also supports HD video recording 1280 * 720 resolution.